Singapore Prevention & Cardiac Rehabilitation Symposium
Contemporary Cardiac Rehabilitation: Special Situations, Novel Measures
THANK YOU!
Thank you to everyone who has made the third iteration of SPCRS 2019 such a resounding success!
Through insightful workshops and speaker sessions on cardiac rehabilitation, attendees benefited from deep engagement with regional experts and fellow colleagues.
Cardiac rehabilitation has and will continue to rapidly evolve, especially with cutting-edge research in artificial intelligence and the development of new technologies.
We encourage all attendees and their colleagues to continue this evolution, and we hope to see you soon at SPCRS 2021!
Please click here to complete a quick survey. Once completed, you will be able to download your certificate of attendance.
Welcome Message
On behalf of the Singapore Heart Foundation and the SPCRS 2019 Organising Committee, we are delighted to invite you to our 3rd Singapore Prevention and Cardiac Rehabilitation Symposium to be held on the18th and 19th of October 2019 at the Novotel Clarke Quay Singapore.
Cardiac rehabilitation has evolved over the years. In the past, patients were subjected to a strict regimen of enforced bed rest after a heart attack. Over the years, this has changed as medical evidence has revealed that an early resumption of exercise, risk factor control, dietary discretion and proper patient education can lead to better health outcomes. This resulted in the establishment of cardiac rehabilitation centres housing gym equipment, dedicated staff and physical space for patients to exercise, thus helping them towards recovery.
But yet with all this investment in infrastructure and training of staff, the rates of enrolment and engagement are abysmally low. Although the take up rate for cardiac rehabilitation varies from country to county, the phenomenon of low participation in cardiac rehabilitation seems to be a universal problem. Patients know that exercise, diet, risk factor control and proper use of medication all contribute to a better outcome, but most only pay lip service to this notion. Many initiatives have been tried over the years to boost attendances, eg. discounted classes and free transportation to the gyms. However, they only resulted in temporary improvement in patient participation and ultimately these initiatives were not sustainable.
At some point in time, we hit the crossroads and a paradigm shift in practice and thinking occurred. Cardiac rehabilitation is currently at its inflexion point.
The development of new technologies will allow us to circumvent the barriers that have prevented patients from participating in cardiac rehabilitation. 5G and Artificial Intelligence (AI) will revolutionise healthcare delivery, resulting in reduced staffing needs and the automation of many services.
Over the 2-day programme, our distinguished faculty will share with us on how enhanced sensor technology can be leveraged to monitor patients remotely and how wearable technology can give realtime health feedback using 5G networks. We will also explore how AI can automate tasks and reduce staff workloads, allowing them more time for patient interaction, giving medicine that human touch.
There will be workshops on physical activity, appropriate nursing care and proper nutrition for prevention of cardiac events. Additionally, special sessions on women's health and sports medicine will be conducted.
Overall, there will be something for everyone at this symposium and we hope that you will benefit from this gathering of experts in the field! So mark your calendars for October 2019 and we look forward to hosting you in Singapore.
Yours sincerely,
Adj A/Prof  Tan Swee Yaw
Chairman
Organising Committee
SPCRS 2019
Prof Tan Huay Cheem
Advisor
Organising Committee
SPCRS 2019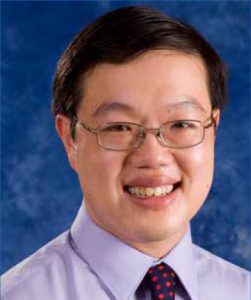 Adj A/Prof Tan Swee Yaw
Chairman
Organising Committee
SPCRS 2019
A/Prof Raymond Wong
Co-Chairman
Organising Committee
SPCRS 2019
Dr Peter Ting
Co-Chairman
Organising Committee
SPCRS 2019
Adj A/Prof David Foo
Co-Chairman
Organising Committee
SPCRS 2019
A/Prof Yeo Tee Joo
Chairman
Scientific Committee
SPCRS 2019
Dr Ho Jien Sze
Co-Chairman
Scientific Committee
SPCRS 2019
Dr Huang Zijuan
Co-Chairman
Scientific Committee
SPCRS 2019